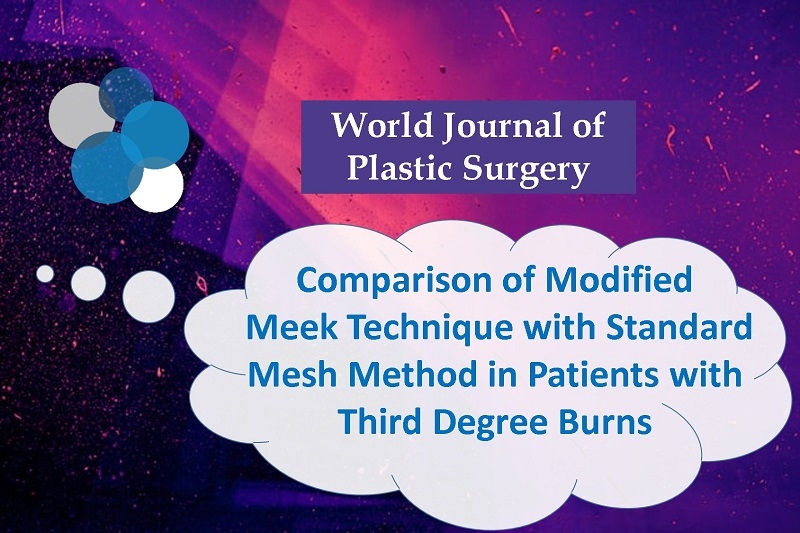 Mostafa Dahmardehei, Reza Vaghardoost, Mahdy Saboury, Hamze Zarei, Shahriar Saboury, Mehdi Molaei, Jalal Seyyedi, Abdulbaset Maleknejad
Background
Covering burn wounds, especially high surface area burns has been always a challenge for surgeons. The Meek technique has been introduced to increase the covering area. There is paucity of clinical trials comparing the Meek technique and mesh in the same individuals to assess it efficacy.
Methods
In a case-control study, 20 patients with grade III burns who underwent the Meek technique and mesh in different areas/limbs were enrolled. Expansion rate, re-epithelization, operation time, wound infection, graft failure, etc. were compared between the two groups.
Results
Among patients, 18 were males and 2 were females. The mean of total body surface area (TBSA) was 36.9±16.6%. Mean time of re-epithelialization in the Meek group was 2.8±2.5 months and in the mesh group was 5.0±2.1 months (p=0.01). Operation time was shorter in modified Meek technique (p=0.04). Expansion ratio was higher in modified Meek technique (p=0.04). Local wound infection rates were slightly different without a statistically significant difference.
Conclusion
Meek technique provided higher surface area coverage in comparison to mesh; in addition to faster re-epithelization. Therefore, it is recommended to consider the Meek technique as a routine procedure, especially those with high surface area burns.
---
To read the full article:bit.ly/37EFyyr
---
---