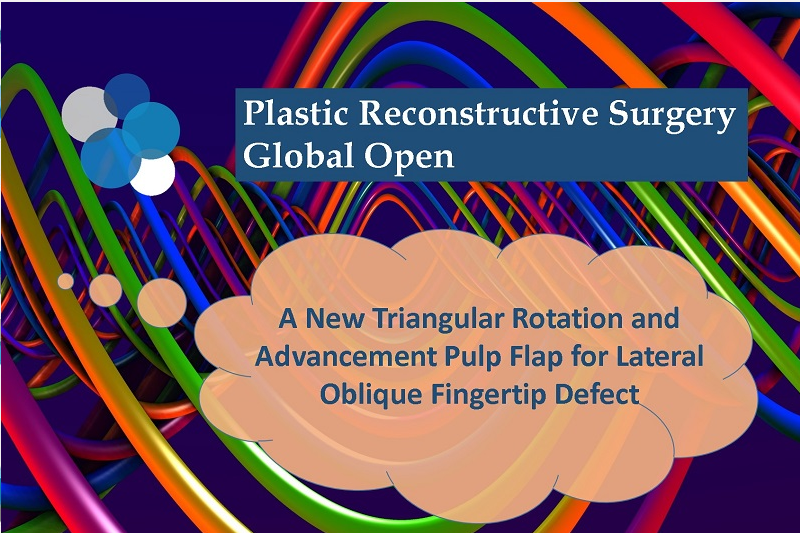 Jian-Long Zhou, Qian Zhao, You-Lai Zhang, Yu-Wen Sun, De-Hua Zhao, Yue-Hong Li, Lei Xu
Background:
The fingertip is one of the most common sites of traumatic injuries faced by hand surgeons. In cases of lateral oblique amputation, only limited alternatives are available for reconstruction. This study introduced a new method involving rotation and use of an advancement pulp flap for covering lateral oblique defect and evaluated its outcome.
Method:
A series of 12 patients with 14 lateral oblique fingertip defects were recruited in this study. All fingertips were unreplantable and were injured distal to the proximal one-third of nail bed, with phalanx exposed. All cases received surgical reconstruction using a triangular rotation and advancement pulp flap. Static 2-point discrimination, cold intolerance, pain, hypersensitivity, range of motion, and aesthetic satisfaction were evaluated 6 months to 12 months postoperation.
Result:
Bone defect was noted in 7 cases. The area of defect was 10×7–20×12 mm2, and the angle of defect was 30–60 degrees. Mean follow-up was 14.3 months. No hook nail deformity, cold intolerance, and hypersensitivity were observed. One patient complained about pain postoperation, demanding a second operation. Static 2-point discrimination was between 5 and 8 mm in all cases. Range of motion of distal interphalangeal joint recovered to 20–45 degrees at the last follow-up. No stiffness was observed in the interphalangeal or metacarpophalangeal joints. All patients were satisfied with the appearance of the flap.
Conclusion:
The triangular rotation and advancement pulp flap is simple, safe, and reliable for treating lateral oblique defect of fingertip, providing scope for anatomical reconstruction and fair sensation and aesthetic recovery.
---
To read the full article: bit.ly/39N2YSk
doi: 10.1097/GOX.0000000000003033
---
---